Clomiphene therapy is used primarily as a supportive therapy for secondary hypogonadotropic hypogonadism or testosterone deficiency. With hypogonadotropic testosterone deficiency, LH, the pituitary hormone that stimulates the testicles to release testosterone, decreases. The reason for the decrease in LH, most often, it is impossible to determine. The main, and most frequent, reason is age. With age, LH decreases significantly, which leads to a deficiency of testosterone.
Clomiphene therapy
The main goal of clomiphene therapy is to maintain LH at higher values. It should be understood that clomiphene therapy is not curative, it will not "cure" the testicles or pituitary gland, so that later more hormones are released for a long time than before the start of therapy. Clomiphene increases LH only for as long as it works. As soon as clomiphene is canceled, the LH level begins to decrease to the same values that were before the start of therapy.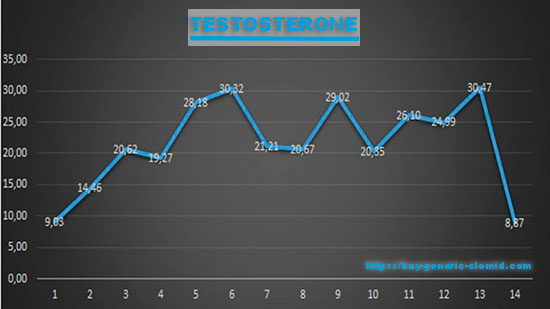 On the graph, you can see how testosterone behaves on maintenance therapy for a year, from 1 to 13 tests, which were once a month. 14 the delivery of tests was 4 months after the cancellation of clomiphene. In this analysis, the level of testsoteron returned to the same values that were before the start of therapy.
From this graph, it can be seen that the testosterone level was good only while taking clomiphene, and there is no effect of testosterone retention after discontinuation of medications in maintenance therapy.
Interesting notes on therapy
Testosterone in good values, more than 20+ nmol/L, does not come out very quickly. Initially, the man had a very low testosterone of 9 nmol/ l, after a month it rose only to 14.6 mmol / L. After 2-3 months it was at the level of 20 nmol/ l and only after 5-6 months it reached 30 nmol/l.
There may be fluctuations in testosterone levels on the therapy itself. Here is an example of the fact that throughout the year testosterone fluctuated between 20-30 nmol/L. This happens if testosterone has dropped from 30 nmol/l to 20 nmol/l, this does not mean that therapy does not work, it's time to finish and only HRT remains. Such fluctuations can be – this is normal. The main thing is to compare testosterone not only with the previous analysis or analysis at the highest point, but also with the initial analysis. Even if testosterone drops from 30 nmol/l to 20 nmol/l, it is still 2 times more than the original 9 nmol/l.
After maintenance therapy, testosterone does not hold at all. Clomiphene therapy is initially a stimulating, supportive therapy. It increases the level of LH, which is low for one reason or another, which increases and keeps the testosterone level in good values. After the withdrawal of clomiphene, essentially what stimulates the level of LH, testosterone levels are reduced to the initial tests. In this case, the analysis with 30 nmol/l was in early March. Then the coronavirus and self-isolation, the cancellation of medications and tests in early July, the testosterone level is the same as the original one, which was almost 2 years ago.